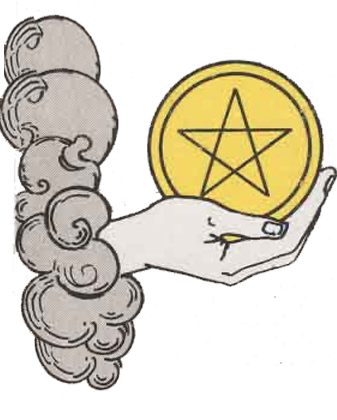 Coins
Coins represent the physical plane. When you draw a coin card it is a picture of what is happening in your outer reality. The coins do not represent an abstract situation; they reflect external situations, external manifestations that can be clearly observed.
A Coin Card shows a visible external situation, in relation to health, finances, work, creativity or relationships. When we objectively simply assess and determine physical reality, we are in the coins.
Arcana Minor (the Little Mysteries) covers from No. 1 to No. 10 in each of the tarot set's four series. Each series represents different aspects of the personality. Arcana Minor deals with the concrete physical reality, and contains knowledge about concrete subjects such as nature, geography, the laws of physics, mathematics, etc. Here, what happens on the physical plane is told. Coins no. 1 through 10 are in the Arcana Minor.










The last 4 cards are Court cards. The Court cards are the four highest tarot cards in each of the four series. These cards are called Page, Knight, Queen and King. In other words, very similar to normal playing cards.
While the Major Arcana deals with the overall development we humans have to go through – and the Minor Arcana deals with the concrete physical reality – the court cards are about the interaction we have with other people, about human behavior, psyche and mind.
If a court card is drawn, it shows that mastery at a certain level has been realized and is applicable in the current situation. The Hoffkort's series (Sword, Stick, Coins, Goblet) shows at what level of consciousness the championship takes place or is demonstrated.
The court cards can be seen as descriptions of sixteen human types, in the same way as the twelve zodiac signs (in Western astrology), or the twelve animal signs (in Chinese astrology). The court cards can thus be seen as a model that describes the typical thought and action patterns that each of the 16 personality types has.
These 16 personality types represent different aspects of the personality and are called the four physical masters (Coins), the four mental masters (Swords), the four emotional masters (Cups) and the four spiritual masters (Wands).
Based on our name, we are all associated with one of the 16 court cards, and it is said to be the fundamental quality we carry with us throughout our lives. To have a harmonious and happy life, we must be able to master all 16 challenges.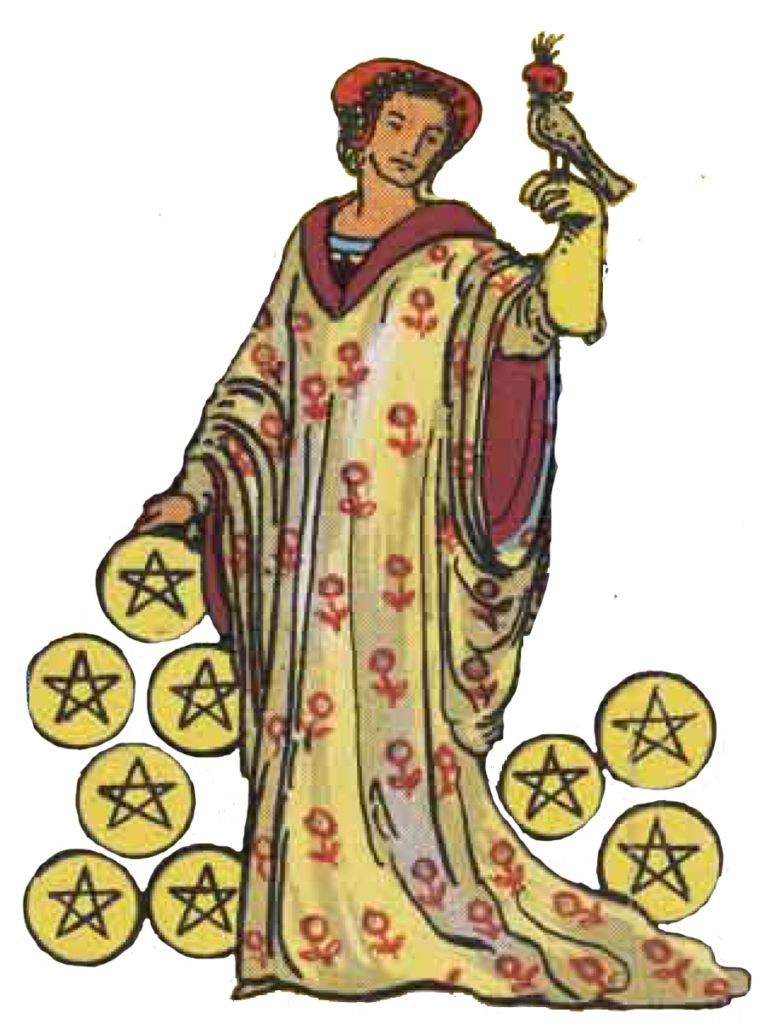 The Coins symbolize the material, safety, economy, education and the balance between internal and external factors. In Coins  you also have the overall balance and anchoring in addition to growing. Here is the economic standard and growth, which governs your foundation and security.
There is both stability and growth in the cards. You want to get a return on what you invested in, get more to be able to achieve even more. All this goes under the collective name economy, which is the hallmark of the Coins.
Dominance of Coins shows situations that have to do with money and material things. it may concern assets, shares or real estate.
Coins along with Wands show money coming out of work situations. Coins together with Cups show love in the home. Comfort in the home and possessions and standard of materials in the home. fixed conditions. Coins together with Swords indicate conflicts that have to do with material things and home. Can also reinforce agreements, contracts and documents.

Ace of Coins Basics
The Ace of Coins indicates good prospects if the question concerns financial and material events. You are successful and productive. You make purchases, investments or lay a new material foundation. A new foundation, possibly a better economy.

2 Coins Equilibrium
Two coins represent movement, change and experimentation. It is a card that indicates some kind of juggling – money in private life, or an extra job or juggling leisure and work, or juggling work and love.

3 Coins News
Three Coins indicate that you need to work with others to get jobs done. Three coins also indicate business in the initial stages. A lot of work without immediate results. Three Coins also indicate a learning period. Something new comes along, possibly a small profit or education.

4 Coins Materials
Four Coins indicate financial security. The card can be a warning about problems with control, lust and jealousy, and stubbornness. Four Coins can also indicate holding on to what you have and fear of loss. Material stable – balance in the material.

5 Coins Limit
Five Coins is a sign of material problems. You are facing bad times financially. Material difficulties. Loss of money or position. Frugality due to limited resources.

6 Coins Lessons
Six Coins is your card for generosity and help from others. The card refers to gifts, sympathy, kindness, gratitude, reward and protection. Travel for education. financial contribution.

7 Coins Planning
Seven Coins indicate slow growth. Perhaps you are at a crossroads – you need a change of course or a complete turnaround. The card can also show various forms of unpaid work. Faced with electoral situations of an economic nature. Reflections on future economics.

8 Coins Diligence
Eight Coins represent diligence. The card may indicate that you are too engrossed in work. You don't have time for anything else in your life. Skills and talents in the material. New areas of work and interests.

9 Coins Gifts
The card can indicate gifts, inheritance, gain or increased income. The card also stands for self-knowledge and good taste. Unexpected money, gifts, gifts, possibly an inheritance. Your coins are wiser when you have material security and all your needs are covered.

10 Coins Security
Ten Coins represent wealth and stability. Your money in the air. You will soon achieve money. Sometimes the card will indicate a large expense. Stable material. Safe position.
The Coins Page Contribution
Page of Coins is about starting small. Messages about money on the way. Auspicious messages related to money.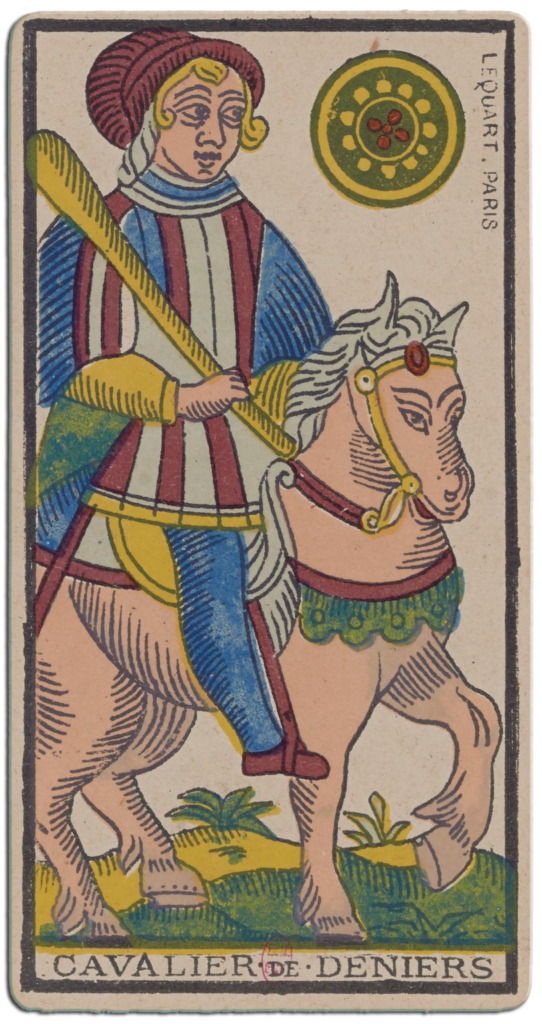 Knight of the Coins Conquest
An agreement in progress that has to do with finances. Money has arrived or is coming. The Knight of Coins refers to the benefits one can get from doing boring but useful things. You are looking to conquer new markets and have your own ability to get things done. But you can become blind to values ​​other than money, and can become a little too selfish and reckless in your pursuit of progress and growth.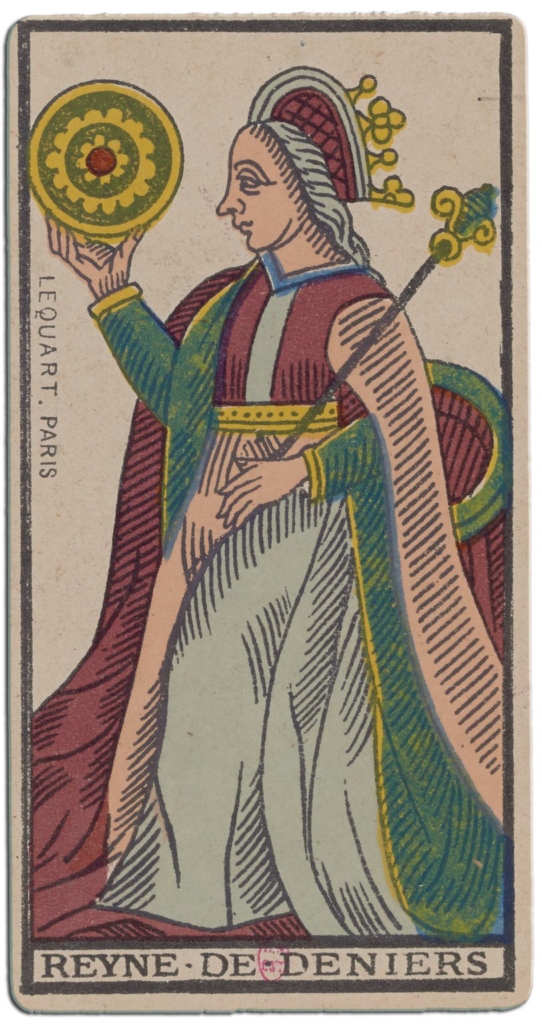 Queen of Coins Consideration
The coin's queen stands for financial competence and consideration. It appears that you manage your wealth responsibly and use it to help others. You have a deep sensibility and the ability to make things sprout and grow. Order and order. A woman who is stable, tidy and practical.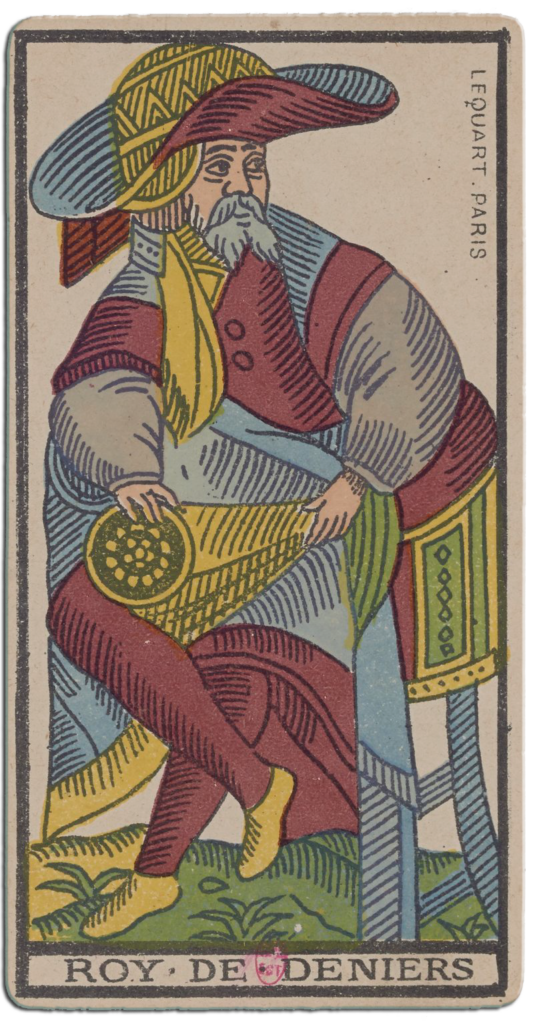 King of Coins Decision
The King of Coins indicates that you must keep commitments, repair what is broken, make money, sponsor a new achievement. Material security is important for that. It pays to be patient and plan long-term. Increase in wealth, secure position in life.